COUNTDOWN!!!!
6 weeks from today, we set sail with the epic 2023 Baja Ha-Ha followed by 6 months of thrilling escapades in the Sea of Cortez. Let me tell you, getting ready for this journey has been no walk on the water!
At the end of June, I embarked on a wild adventure with a new boss who's taken the helm of our ship. Not gonna lie, this transition has been quite the challenge! You see, I've been appointed as the first mate, but it seems like my boss missed the memo on my true calling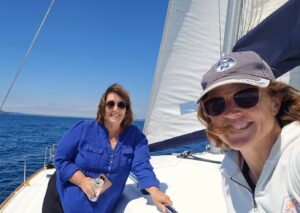 As Princess of this Cat, I excel in the noble art of bottle-opening, particularly when it comes to wine and champagne. But alas, instead of basking in my uncanny ability to pop corks and pour bubbly flawlessly, I find myself running around doing manual labor. Ahoy, boss, I'm the master of ceremonies, not a deck-swabbing extraordinaire.
Preparing our trusty Catamaran Hypnautic for the adventure has been a whirlwind of tasks. Inventory checks, safety net installation, deep cleaning every nook and cranny of the boat (hello, mysterious hidden spaces!), fixing and upgrading heads, (yes, they all have Bidets), changing filters and parts in the Water Maker, and making lists of provisions. Don't worry, we've prioritized essentials like wine, champagne, and coffee! ☕️🍾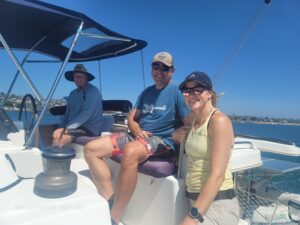 As for my role, I'll be the master of happiness and spirits, with a dash of cooking expertise thrown in between. While Captain Mike gets acquainted with the ship's operations, Jay Rosen will be his trusty first mate, joined by a fabulous crew of Cooper, Tara Cottam Colson and Bfrank Colson, two fun and knowledgeable sailors that know the ropes and have done this Ha Ha before. Cooper will be along to clean all plates of leftover food so it doesn't have to go in the trash or out to sea.
As we get closer, it is time to let the Captain know that every good ship needs a crew member who can make celebrations pop, quite literally! So, here I am, ready to chart the course to laughter and cheer, all while secretly hoping that someday my talents will be recognized. Until then, I'll be juggling corkscrews and brooms, proving that sometimes the captain's orders can be as topsy-turvy as a stormy sea!
🏴‍☠️⛵️ #SailingSaga #WineWhisperer #seaofcortez #sailawaywithme