Sea Lions, Dolphins and Famous Ha Ha Bazeball Game~
Late Wed night we pulled into Bahia Tortuga, the legendary Turtle Bay, and it's like stepping into a hidden paradise. This remote fishing village might be small, but its heart swells with excitement when the Ha-Ha fleet sails into its tranquil shores. With a population of 2,367 island dwellers, this community knows how to throw a party!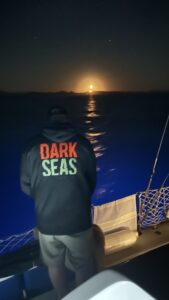 We embarked on our first three-day voyage, covering 360 nautical miles from San Diego to reach this coastal gem. The sea welcomed us with open arms, and now we're basking in the glory of Turtle Bay's warm embrace.
Yesterday, we witnessed the clash of titans at the world-famous Ha-Ha baseball game, where local kids showed off their formidable skills. Today, the fun continues as we gather with fellow Ha-Ha cruisers for a beach BBQ. The camaraderie is infectious, and laughter fills the air as we swap tales of our seafaring adventures and fabulous fishing.
The real magic happens in the early morning hours. While sipping a fresh brewed cup of coffee aboard our Catamaran, playful sea lions and dolphins put on a mesmerizing show right in front of us. It's a symphony of nature's wonders, and we're lucky enough to have front-row seats.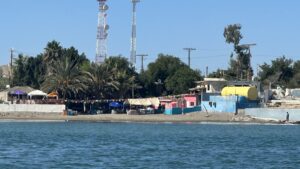 Dining in Turtle Bay is an experience. The two open-air restaurants, if you can even call them that, offer a funky charm that perfectly matches this laid-back haven. We indulged in mouthwatering fish tacos, accompanied by refreshing margaritas and ice-cold beer. As we savored our delicious feast, we watched the locals frolic on the beach and lend a helping hand to the Ha-Ha cruisers as they made their way ashore with their trusty dinghies.
I highly encourage anyone that's sails south, make sure to drop anchor in Turtle Bay. It's a slice of paradise where adventure, community, and natural beauty blend seamlessly.