November 5, 2023
Sunday night, our adventure to Bahia Santa Maria took an unexpected twist. 25 miles out from our destination, Mother Nature decided to put on a spectacular light show and rattle the heck out of us. Lightning bolts crackled and danced upon the water, giving us all a dazzling display of nature's power.
Realizing that being struck by lightning was not on our bucket list, many of the Ha Ha fleet along with us swiftly turned our boats around and joined the others in a hasty retreat. It was a reverse race against the storm, with all of us desperately dodging each bolt like a game of nautical Frogger.
To alleviate the disappointment of sailing back and adding extra hours to our trip, we rallied together, turned on the oven and made homemade chocolate chip cookies! Yep, in times of crisis, cookies can work wonders in healing the pain of sailing in reverse direction. The sweet aroma filled the air, calming our seafaring souls and ensuring that our spirits remained buoyant.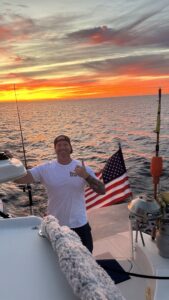 Word spread like wildfire across the vhf radios—this was the first lightning storm the Baja Ha Ha had encountered in a quarter-century. We may have missed the memo, but hey, it made for quite the spectacle! We turned a potentially treacherous situation into an impromptu light show, proving that even Mother Nature enjoys a little mischief now and then.
Monday morning, serenity embraced us as we arrived and anchored in Bahia Santa Maria. The seas were calm, the weather warm, and our weary bodies rejoiced at the prospect of a day spent leisurely floating in the water. After Sunday night's wild joy ride, it was a much-needed respite and a chance to recharge our sun-kissed batteries.
Today awaits us with the promise of the Baja Ha Ha Beach Party—a festive gathering of sailors ready to celebrate surviving the stormy encounter. But the real icing on the cake (or should I say, the salt spray on the deck) was the clearance into Mexico last night. With one hundred boats needing inspection, it was done in two hours under the dark sky and bright stars. Smooth sailing shall be our reward as we set course for Cabo tomorrow.
So, let's raise our cookies and toast to the unexpected, the adventurous, and the joy that comes from embracing the twists and turns of nautical life!