Many have asked how we spend our time during those long passages between islands? So below we have given a fun perspective to the difference of being crew on our modest Catamaran versus a pampered guest on a luxury cruise ship
On our Cat you can say goodbye to chair hogs/squatters, dining divas, and boorish boozers —
The best part about Hypnautic? This voyage is all about relaxation and unforgettable adventures.
And let's talk about dining divas. Those individuals who demand a table by the window, a specific waiter, and a menu that caters to their every whim. On Hypnautic, we have the freedom to enjoy a gourmet seafood feast prepared by someone special onboard and everyone has a window view. No divas here—just satisfied taste buds and happy attitudes
No need to worry about territorial disputes here either. On Hypnautic, you can sprawl out on the deck without getting up at the crack of dawn to save a space, and soak up the sun without any chair hog drama. It's your space whenever you want it!
Unlike extravagant cruise ships, our humble cat Hypnautic, lacks a fancy casino, live shows, and an endless supply of fancy coffees/drinks and decadent snacks. No, instead we embrace the joys of everyday life at sea.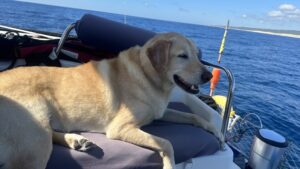 Imagine this while at sea: cleaning, washing clothes, and mastering the delicate art of cooking while keeping our balance. We even consider doing core exercises (emphasis on "consider") to maintain our balance. And let's not forget the excitement of filleting Jay's fresh catch of the day!
But that's not all! There is always something to fix like bilges, heads, and whatnot. Our boat may not be a luxury cruise cake walk, but it's a floating DIY paradise!
On Hypnautic we promise laughter, unforgettable moments, and maybe even a few quick dance moves when no one is watching. Until our next post, ahoy mates!
Jay Rosen Debra Ulmer Rosen 2023 Baja Ha-Ha Tara Cottam Colson